Audition coaching for actors at Bergen Byspill
Bergen By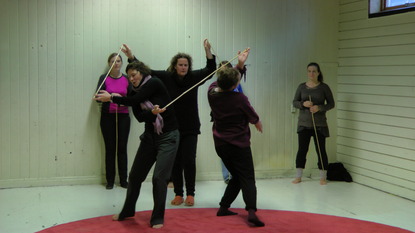 spill

Artistic Director

Solvei Stoutland

invited Nora Armani to teach a Masterclass in audition skills for actors preparing to audition for the

Den Nationale Scene

. The workshop took place over a weekend. Ms. Armani works with acting exercises created by Peter Brook, Ariane Mnouchkine and

Complicity Theatre

director Simon MacBurney as well as movement guru

Monica Pagneux

, with all of whom she has trained, to help free the actor of tensions and obstacles that hamper the audition process.

"These exercises are foul proof ways to a relaxed and available actor, and help put the joy in acting back where it belongs,

" said Armani during an interview. The auditions were in Norwegian, which Armani does not speak.

"It is better when you do not speak the language, as the emotional flaws and 'lies' are immediately detected when the actor has now words to hide [behind]"

. Solvei and Nora will be conducting a workshop on

Ibsen and Physical Theatre

in New York in March 2012. To read more click here.